Blog > Waterproof Flooring
Waterproof Flooring
­
Monday, November 8, 2021, 9:00 AM
---
­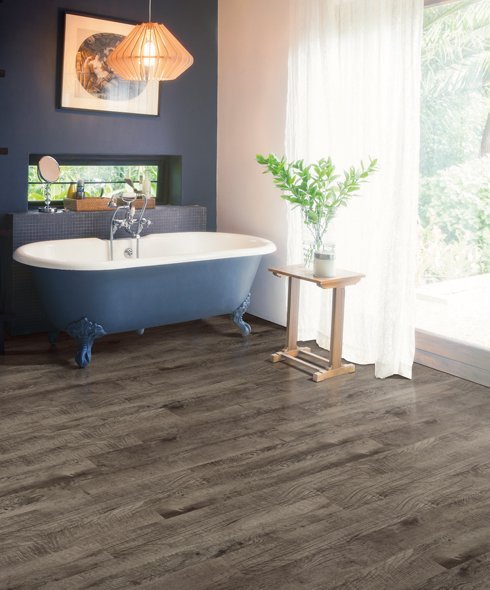 ­
How does waterproof flooring differ from water-resistant?

It is only natural when searching for waterproof floors to wonder if water-resistant flooring is just as good. The truth is, there are some differences between the two, and you will want to know what they are before you purchase.

Waterproof floors can do so much

When most homeowners think about waterproof flooring, they think about a basement, laundry room, or bathroom placement, and those are undoubtedly excellent options. However, you can install these materials anywhere throughout your home for the peace of mind you deserve.

You will find options like luxury vinyl plank and tile, porcelain, ceramic, and many other products that can keep you safe from water damage for years to come. Be sure to ask about the various levels of protection and lifespan, affecting how well they work for your specific needs.

Depending on the waterproof flooring options you choose, installation times can vary. For instance, luxury vinyl flooring is a quick and easy installation, while porcelain tile can take longer due to the vast precision necessary for the task.

Also, when you speak to your flooring professional, be sure to ask about the type of protection these floors provide. With some options, such as laminate, you will need a vapor or moisture barrier to protect against any possible subfloor situations.

Trust us for all your waterproof options

When you shop at Johnson's Carpet & Tiling INC, you will find a world of materials at your disposal, with options that meet your every need. Our associates will ensure your complete satisfaction by getting to know all your preferences and requirements and then providing the products and services that work for you.

From our showroom in Napoleon, OH, we serve the communities of Deshler, Toledo, Defiance, Napoleon, and Liberty Center, and we would love to work with you as well. We will make sure you have all the waterproof flooring options you need in the spaces you need them, so stop by and talk with a flooring professional today.